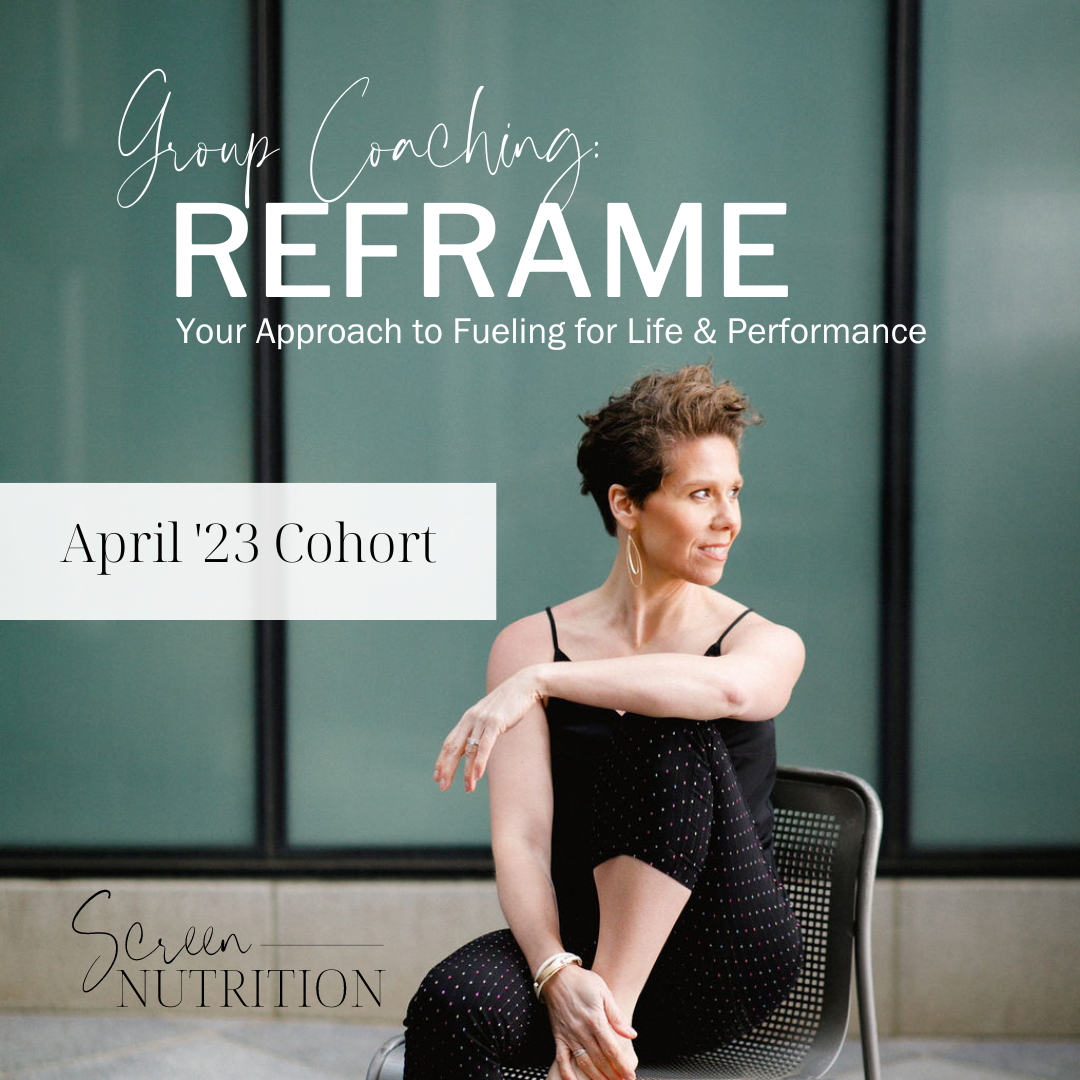 This is a Group Coaching program. There is limited capacity so enroll now to secure your spot.
The next round starts in 

April 2023!




It's not about removing things. It's not about controlling your body. It's not even about "eating clean."

It's about understanding what your body needs, coming at it from a place of support & nourishment, and learning how to meld it all with the realities of your life.
It's about The Reframe of your entire approach.



Interested in the next Reframe Cohort? It starts in July.
Imagine:
You instinctively know how to fuel every day for the work you are asking your body to do.

You are perfectly prepped to design your training & event-specific fueling plan.

You're hydrated & rested & dialed in with food & lifestyle tactics to support your adventures.

You are free of GI, hormone, and imbalance symptoms that have become "normal."
Reframe your entire approach to nutrition, health, & performance fueling. Support your body in what it already knows to do, and never worry about "how to eat" again.
The Reframe is for you if...
You have no idea the best thing for your body and performance 
You're constantly in a binge/restrict cycle and you don't know how to get out
You are confused about what to eat, when, how much, for in-season and out-of-season training
You want to forget any food rules or restrictions you've learned from previous diets and learn how to just eat!
You finally want to understand how to eat for performance, life, and in any situation without having stress surround it 
You want to get to the root cause of your GI distress, low energy, sugar cravings, and hormone-related symptoms 
You never want to do another nutrition program ever again! 

The Reframe FAQs
1.     What does it include and what do I walk away with?
10 modules of 30+ dietitian-led video modules, broken down into easy-to-understand, tangible nutrition habits that you can implement into your daily life. Each module has worksheets and handouts to further your understanding, and help you integrate it into your own world. There are resources here that you can use DAILY, to help you navigate the world of nutrition, that many of our clients continue to use today to help them be successful.
Live, weekly, group coaching calls with a registered dietitian will be at the end of each module to help you fully understand and integrate everything you learn in the modules. Here, as a group, is where you can ask questions and dive a little deeper.
The confidence of knowing you can handle any food-related situation
An improved relationship with food
A better understanding of how your body works, what it needs, and why
How to eat based on any season of life
How to improve performance in life and in your sport through nutrition
How to maintain healthy habits that fit for your lifestyle in the long term
2.     How long is the program?
The program is officially 10-weeks, to go through and implement 10 modules of nutrition content. 
If you need further support past those 10 weeks, we can dive even deeper in 1:1 coaching or do functional testing
3.     Even if I'm not an athlete, is this for me?
Yes! The Reframe is for anyone who wants to fuel themselves as a functional human. All the lessons on setting foundational nutrition habits that will carry you throughout life are in this program. Anybody that is an active person that wants to live a longer, healthier life with fewer ailments affecting your life, The Reframe is for you.
4.     How do I know this works?
We believe wholeheartedly in this program, and that it can change people's lives. With that said, to be successful, it requires you to show up for yourself! At the end of the day, we give you the tools to be successful, give you accountability, and guide you through the process- but it's on you to do the work on the backend. The exact reason we have group sessions is so you're not alone through this process, and you have others going through the exact same thing, and a fearless leader to guide you :)
5.     Is there a payment plan?
Of course! We have options to pay in 1 or 2 payments. If you choose 2, those will be made 30 days apart. We hope this makes the program more accessible to people. 
6.     What if I can't make the group sessions? 
That's okay! We hope that everyone can make the group sessions so we can all learn and grow together, but even if you aren't present for the live sessions, you can still benefit. We will record each group session so you can view them at any time during the program. 
BY PURCHASING, YOU ACKNOWLEDGE THAT THIS PRODUCT IS NON-REFUNDABLE.